THE OFFICIAL HOMEPAGE OF DETROLA RADIO
MORE ABOUT DETROLA---PAGE TWO
There will be more information and pictures on this page soon!!!!
---
---
PEE WEE and SUPER PEE WEE

When the Pee Wee and Super Pee Wee were introduced, the radio marketplace was amazed by the size and performance of these little sets. Offered in several cabinet styles and a variety of colors, they literally took the marketplace by storm. Suddenly everyone could afford to get a second radio for $10 to $20. Other radio manufacturers rushed to get small sets designed and on the market but for a while Detrola was the leader in small inexpensive radios. Even industry giant RCA contracted with Detrola to assemble the original 9SX Little Nipper series with slightly different case but the same chassis as the Super Pee Wee.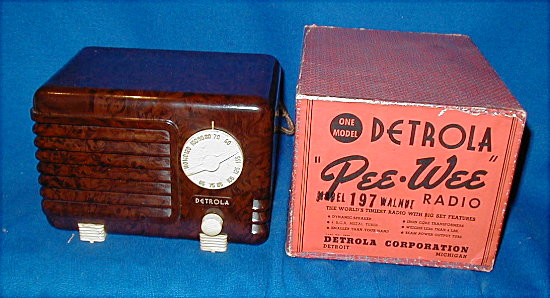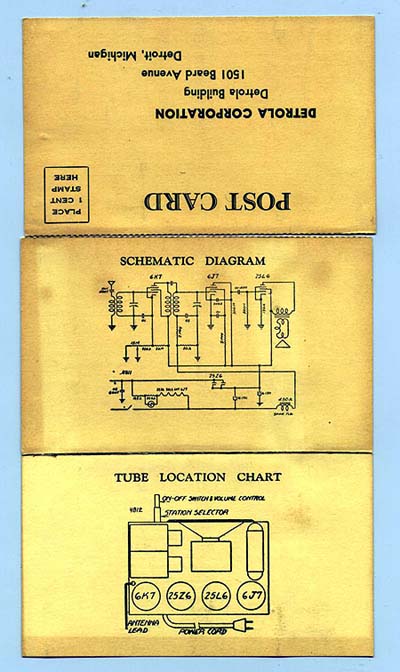 Here is an original untouched Detrola Pee Wee Model 197, found by a collector with its original shipping box, and all of the original paperwork including the warranty card, the shipping label for returning the set for warranty repair, and the schematic and operating instructions.
---
THE POSTWAR YEARS

After the end of WW2, radios were a hot commodity and manufacturers could sell everything they were able to produce for a few years. International Detrola was no exception, in a financial statement around the end of WW2 they reported having orders for millions of dollars worth of radios to be produced at a later date. There were only a couple dozen postwar models, but several of those were built in large quantities. The serial number range of the model 571 alone indicates that well over 300,000 of them were built in 1946-47. In particular, the 568 a metal cased rugged set which was originally designed to be a military troop entertainment radio, the 571, 572, 576, and 579 are all very common sets and had a lot of different brand names, mostly obscure, used on them. One of the Detrola managers stated that it took an order for a few hundred radios to get a custom silk screen made with whatever brand name and logo design the buyer wanted on the radios. In some cases, such as the 576, the name was hot stamped into the plastic bezel or a small metal tag with the brand name was glued onto the face of the radio. Some of these are recognizable national brands, but many are obscure and impossible to trace. Many of the more common post-war Detrola brands seem to be related to auto and farm parts suppliers, gasoline, oil, or tire companies, mail-order catalogs, and hardware stores. Examples of these brand names (with retailer in parentheses when known) are Aetna (Walgreen Drugs), AFA (farm co-op), Atlas (Standard Oil tire brand), Chanticleer (unknown), Cheer-Tone (unknown), Cherokee (unknown), Cisco (most likely Cities Service Oil company), Cleartone (unknown), Delmar (unknown), Dixie (unknown), Electronia (unknown), Emerald (unknown), Freedom (coal mine company store), GLF (Grange League Federation, upstate NY farm co-op), LeMoine's (appliance store, Denver CO), Mantola (B F Goodrich tire company), Meier&Frank (department store, Portland OR), Melrose (unknown), Musicaire (Coast To Coast Stores), Richmomd (unknown), Skelco (Skelly Gas Oil), Seiberling (tire company), Southern States (farm co-op), Stratovox (Grossman Music, Cleveland), Tone-Test (unknown), Truetone (Western Auto), Tru-Test (unknown), US Grant (these were used in rooms of a San Diego hotel, never sold at retail), Val-Keen (unknown), Velvetone (unknown), and Van Camp (hardware company Indianapolis). Please be aware that these retailers may have also purchased radios from other independent manufacturers, and not every radio of a particular brand name was built by Detrola. If you find the RMA code # 213 on the paper ID tag which is usually glued onto the rear of the chassis, it is a Detrola product. This code assigned by the Radio Manufacturers Association was to allow servicers to be able to identify the manufacturer of any given radio without having to actually put the name of the manufacturer on the product. This was very important for private brand sets because the distributors and retailers often did not want to reveal the manufacturers name to the customer. Variations of this RMA code frequently seen are 2135 and 2136, which most likely indicate which building the radios were built in.
---
The Infamous Detrola 571's
(and a few words about 572's)
---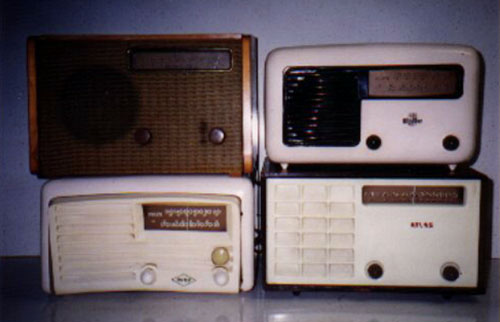 After the end of WW2, Detrola again began producing radios for the consumer market as fast as they could. One of their most famous products, the Model 571, was built in the years 1946-1947. Pictured above are 4 of at least 12 different cabinet styles of the popular Detrola model 571. This radio is undoubtedly the highest production of anything Detrola ever made and had well over 50 brand names used on it. It is entirely possible that the 571 in all its versions and brand names could be the highest production for any radio model ever made by any manufacturer. The range of known 571 serial numbers runs from 100,000 to the mid 400,000's, indicating a production of well over 300,000 radios. 571's of other brand names are easy to identify because as you can see from the photos, they all share two things in common. All of them have unusual rectangular dial scales that read backwards, that is the low frequency stations are at the right hand end of the dial, while the higher frequency numbers are on the left side. Most of them have the word "Police" at the left side of the dial, which was an indication of where on the dial one could have listened to police calls in 1946. All 571's have an unusual dial pointer in that it sweeps the dial in an arc, similar to the hand on an older car speedometer or dash gauge. Also all 571's have two knobs spaced exactly the same in relation to the dial no matter what style of cabinet was used.

In the photo above, the wood cabinet version at the top left has a cloth front and a brass bezel around the dial window. There is also another very common wood cabinet having horizontal wood louvers for a speaker grille which I have not included a photo of. The all bakelite version at the top right was the most common of the 571's, it also appears in unpainted brown bakelite with white grille insert and in black unpainted bakelite with either white or brown insert. This set bears the Windsor brand name. The unusual set at the lower left is a TruTest, and has a bakelite outer shell with a plastic front insert, unfortunately all of them warp very badly and it is unusual to find one that is as good as the one in the picture. The white circle above the tuning knob is covering the dial light. The other wood cabinet set at the lower right of the photo is an Atlas brand, with a thin plywood outer cabinet and a plastic front insert. Another very similar model to this one has round circles instead of the louvers for a speaker grille, and a third version of the thin plywood cabinet with plastic insert grille has horizontal louvers running all the way across the grille, and shown below.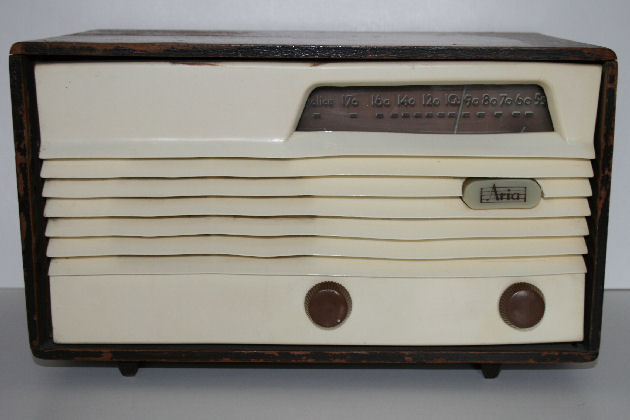 This version is an Aria, these cabinets were 1/4" plywood, and the plastic grille inserts are always badly warped. Too bad that plastics technology in the 1940's wasn't better, as good examples of many of the radios of that vintage are very difficult to find. The 571 was made with several different combinations of tube types and sizes, some chassis have all octal tubes, some have all loktal tubes, and others have combinations of loktal, octal, and 7-pin miniature tubes. Some 571's used a conventional variable capacitor to tune the stations, but many of these were built with variable inductance tuning whereby a string pulls powdered iron cores in and out of coils to tune the set, this apparently was done as a cost cutting measure and there is little difference in performance between the two types. Since there were so many 571's made, they are very common and therefore not of much value yet to the collector, but they are easy to repair and work well, and make great everyday listening radios. For whatever reason, the bakelite cabinet versions of the model 571 are more popular with collectors than the wooden cabinets.
---
And the Not-So-Popular 572's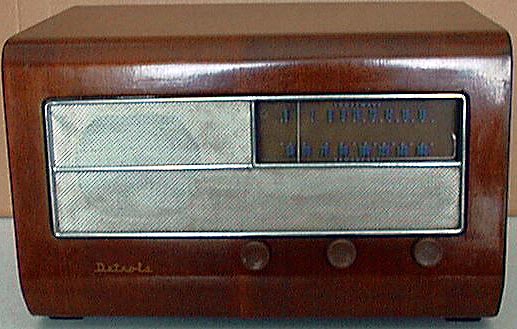 The second highest production of the postwar Detrolas has to be the model 572. For some reason, this radio has never been as popular with collectors as it should be, because it is a very good working radio when properly restored. They are plentiful and inexpensive compared to other brands of the same vintage, which is good for someone only wanting an older radio to listen to. While it is a rather plain looking radio, it has a 6 tube chassis with tuned RF stage, and a power transformer, similar to the chassis used in Detrola radio-phonos and consoles of the same vintage. The 572's main downfall was the use of a bent (molded) plywood cabinet for most versions which is very weak at the curved areas and often cracks. As with the 571's, there are several commonly seen cabinet variations of 572's. The one pictured above is somewhat unusual in that it has a silver/gray color grille cloth and blue lettering on the dial, while most had brown cloth and red lettering. The other very commonly seen version of the 572 cabinet is flat on the front, but rounded at both the top and bottom corners. The 572 chassis is a good one, and these work really well although they would have been even better with a larger speaker. A lot of brand names are seen on the 572's, probably most if not all of the more than 50 brand names from 571's were also used on the 572's.
---
568
Of the postwar Detrolas, all metal 568's are the third most common set. There were two basic versions of the 568, one with an all-metal cabinet including a full metal back, and another with a wood cabinet covered in dark green leatherette with a chrome plated front panel. The metal cabinet version was designed as a troop entertainment radio near the end of WW2, and early versions of it have a handle which was later dropped. There were several promotional versions of the chrome front green leatherette version, including one from Detroit radio station WJR. Metal cabinet 568 production is right up there with the 571 and 572, and a lot of them have survived because they are so well built. They are often seen at radio shows and flea markets, but since they are so common and considered unattractive and utilitarian, usually considered undesirable by radio collectors. A few people have had an all metal 568 stripped and chrome plated in an attempt to make an unusual display item. The radio in the photo is the leatherette version, and the color is actually very dark green, but shows up nearly black due to lighting conditions. A flash was purposely not used to avoid creating reflections off the chrome. Unfortunately many of these sets have had the silk-screened logo fade or wipe off during cleaning.
---
576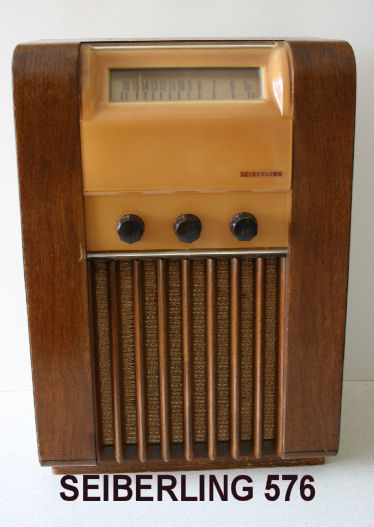 The 576 is often mistakenly identified as either a child's console or a salesman's sample of a console radio, which it is not. It is just a table model radio with a vertically oriented cabinet, which was far less common after the war. Vertically oriented cabinets, often referred to by collectors as a "tombstone" design were very common in the 1930's but around 1940 began to fade from popularity. 576's have a plastic insert at the top front which is often warped, cracked, or fogged. On some, the brand name is hot stamped into the amber colored portion of the plastic, while others have a small metal nameplate glued onto the plastic at the same area. Occasionally one is seen where the nameplate is covering up a hot stamped name behind it, which is always a different brand name. Apparently they used up excess plastic inserts in this manner. This example carries the Seiberling brand, which was a tire company. The knobs however are not original to this radio, they should be the same type commonly found on many 1946 Detrola products and shown below on the 579
---
579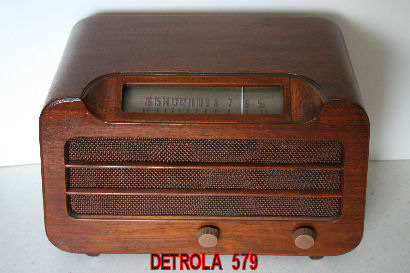 The 579 has the nicest styling of all the post-WW2 Detrola products. It has a molded plywood cabinet with rounded corners on the sides and a flat front. This set came in blond and walnut finishes and is a really great performer, making a great stylish everyday radio for a collector today. The radio pictured came from a Detrola employee who had it since new, but through the years the cabinet became worn and was refinished. Unfortunately, the silk-screened logo was lost in that process. The plastic dial window was originally a bubble style, but it was damaged so a flat plastic window was installed.
---
Firestone 4A12 The Narrator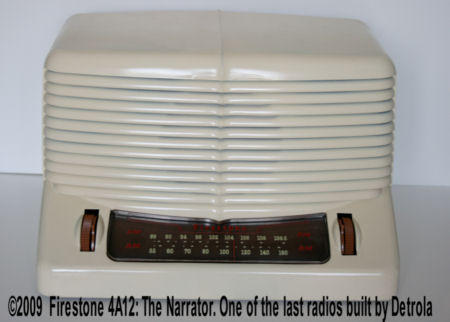 The Firestone 4A12 may very well have been the last model built by Detrola before they closed down operations in late 1948. This set is unusual in several ways. It is one of the very few Detrola-built radios with both AM and the "new" FM band, one of the very few having all miniature tubes, and one of the very few with no Detrola equivalent model. The ID tag on the back gives the Detrola number as 8370, and these exist in white painted bakelite, and plain brown bakelite. The 4A12 is considered highly collectable by car collectors, probably even moreso than by radio collectors, for two reasons. First, the Firestone name which was associated with automotive products and retail stores, and secondly because the very unusual cabinet design resembles some auto designs of the era. It is one of the better working AM-FM radios from 1948.
---
DETROLA NETWORK DIAL SCALES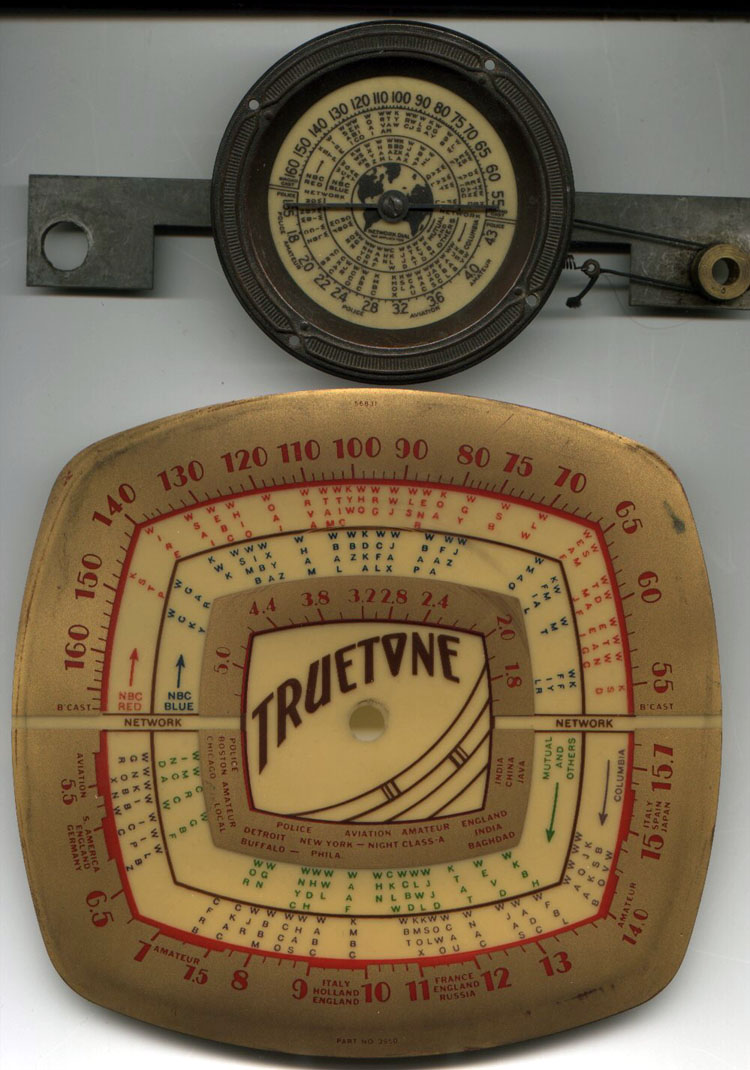 Here are two examples of the Network Dial scale which Detrola used on many of their products in the 1936-1938 model years. There were others as well, some in the plain brown and white like the one shown above from the Model 104. The multicolored one is from a Truetone. Many of the other private brand Detrola products had their own unique network dial scales.
---
ORIGINAL AD from 1936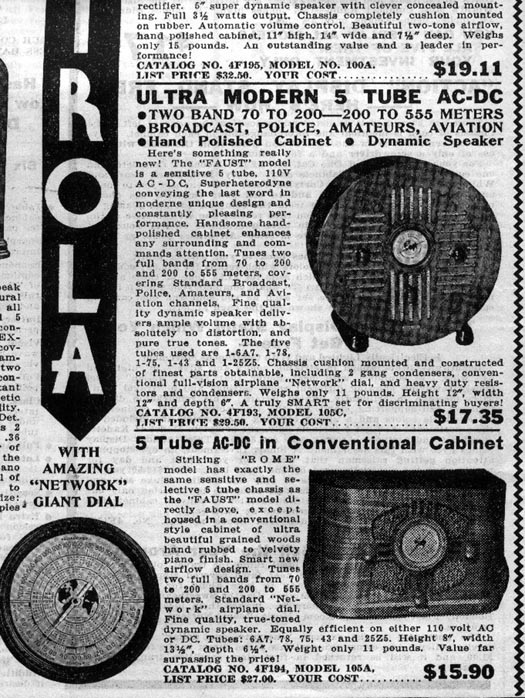 This is an original ad for two versions of the Detrola Model 105, showing both the round cabinet style and a more conventional mantle radio. It was common for Detrola to use several different cabinets for one chassis model. This ad originally appeared in a 1936 Burstein-Applebee catalog.
---
DETROLA ELECTRIC TUNING FOR 1938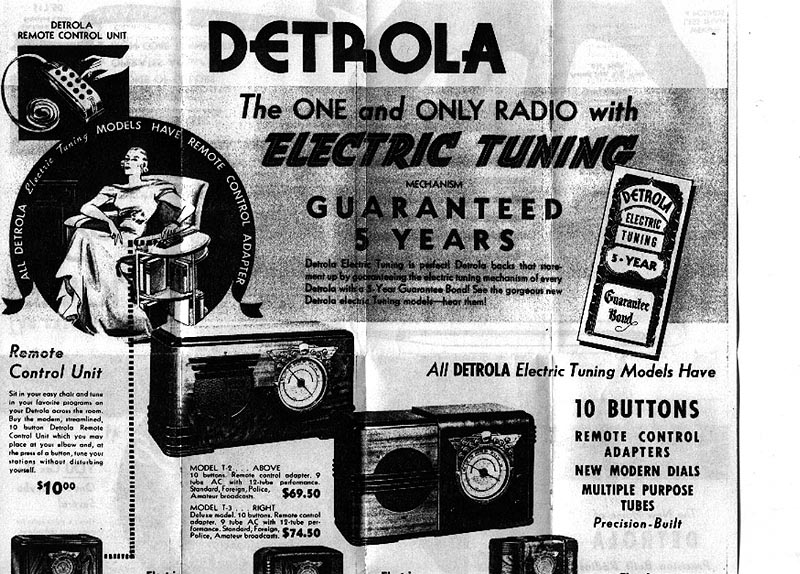 There were a number of Detrola products, offering electric pushbutton tuning and optional remote control units during the 1938 model year. Some of these were carried over into the next year as well. The electric tuning models were mostly sold under the Detrola, Truetone, and Silvertone brand names, although they have also been seen with several other brands such as Aria and Hudson. Remarkably a 5 year guarantee was offered on the electric tuning system, something unheard of in the radio industry, but since the concept of motor driven electric tuning was new at the time, it might have been done to make it easier for salesmen to sell these models to the prospective customers. This wording of a 5 year guarantee quickly disappeared from later advertising. This is a partial copy of a Detrola sales brochure for these radios, courtesy of Carol Fink at the Library of Michigan.
---
---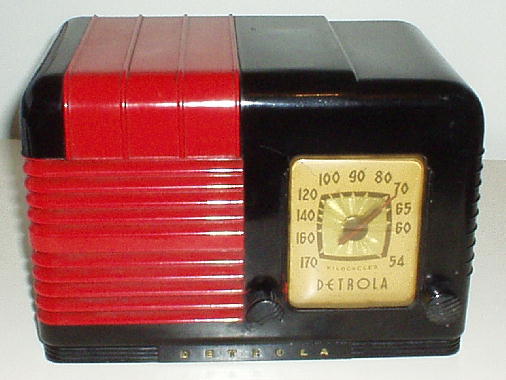 An interesting black bakelite Model 342 with red trim
---
Entire contents of this page Copyright © 1998-2012. All rights reserved. Please ask permission before using any of the material contained herein.
---
---
---
If you came here from an external link, or somehow missed the main page, there is still more to see there.

CLICK HERE TO RETURN TO THE FIRST PAGE of the OFFICIAL HOMEPAGE OF DETROLA RADIO
---
And Now For Something Completely Different, and not even related to Detrola.....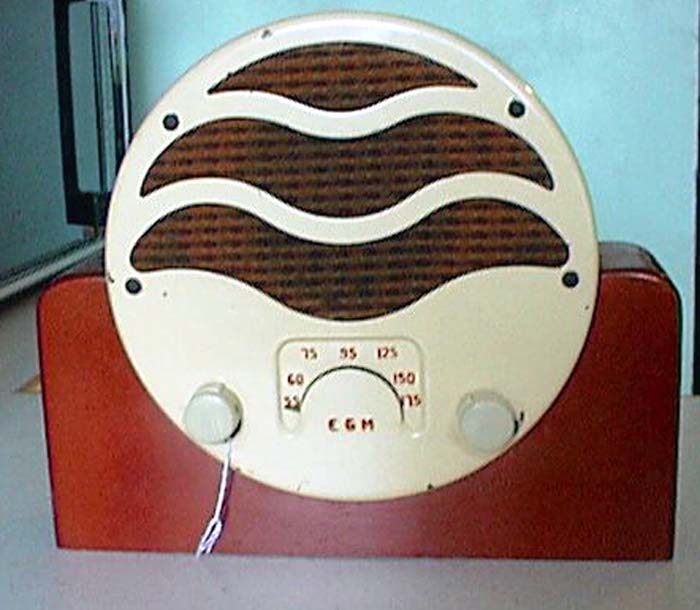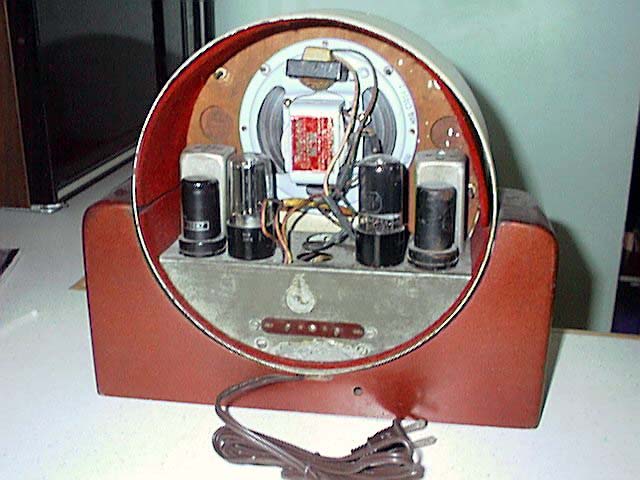 This is one of the strangest round radios we have ever seen. It is marked "EGM" on the front, and a decal on the chassis reads "Electronica General de Mexico" which translates into English as "General Electronic of Mexico". Someone suggested that it might be a Mexican offspring of General Electric, but we cannot find any info to support the existence of either. Educated guess= late 1940's to 1950's based on common AA5 tube layout. No other identifying information on the set. Speaker is known to have been replaced by previous owner, knobs also may not be original. Paint may or may not be original. Stamped round metal housing, wood base, missing a stamped louvered metal back that would have fit into the housing. Another version of this radio has been seen with additional material below the base, possibly marble or something similar. If anyone knows the model number of this strange radio, or has any sales brochures, advertising, or factory repair manual it would be greatly appreciated.
---
Entire contents of the Official Homepage of Detrola website is Copyrighted © 1998-2014 with all rights reserved. The information contained herein may not be reproduced or used in any manner without permission.